Posted by thecitypulse in : The Daily Pulse , add a comment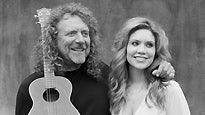 The most anticipated show of the concert season is finally here. Robert Plant and Alison Krauss are in town tonight at the Bank of America Pavilion. Hot on the heels of their "Raising Sand" album which came out last year. That album made it to the top of my top ten of the year for 2007. It's a sexy album. If you don't have it…GO GET IT!!! Unfrotunately  the show is sold out. One of the few this year to do so. If you're going expect a couple of Led Zep tunes sung by Alison. She does a great job on both "When the Levee Breaks" and "Black Dog." Their producer, T-Bone Burnett opens the show. Try to get there early and stop in to one of the many great restaurants in that area. This is one show you do not want to arrive late for.
Also, around town. The Breeders are at the Paradise, the US Air Guitar Championships are happening at the Middle East Downstairs. The Sox take on the Rays at Fenway and Game 1 of the NBA Finals begin at the TD BANKNORTH GARDEN as the C's battle the Lakers. GO CELTS!!!!!! 
Check back to thecitypulse.com tomorrow to find out what's happening this weekend!!!